Systematic news (2004)
1. In their work (F.Pribik& D.Weinmann, 2004. Ein Fall von Praokkupation in der Unterfamilie Theraphosinae und der sich daraus ergebende neue Name Neostenotarsus Pribik&Weinmann, 2004 nom. nov. pro Stenotarsus Tesmoingt&Schmidt, 2002. Arthropoda 12(2) Juni: 21) Frantisek Pribik and Dirk Weinmann shown that the name of tarantula genus Stenotarsus given in 2002 by Schmidt and Tesmoingt for new described taxon (Tesmoingt,M.&G.Scmidt (2002): Stenotarsus scissistylus gen. et sp n. (Theraphosidae: Theraphosinae), eine Vogelspinne aus Franzosisch Guayana. -Tarantulas of the world 7 (76): 3-12.) has already been given to a beetle genus (Coleoptera, Endomychidae), described by Petry in 1832. In connection with it to theraphosid genus described in 2002 by Schmidt and Tesmoingt the new name Neostenotarsus Pribik&Weinmann, 2004 was given.
Thereby a new synonym was established: Stenotarsus = Neostenotarsus.
2. At the end of 2004 Haupt,J. and G.Schmidt (Germany) had described a male and resurrect a genera Yamia Kishida, 1920 (Haupt J.& Schmidt G. 2004. Description of the male and illustration of the female receptacula of Yamia watesei Kishida, 1920. Spixiana, 27 (3): 199-204.), which was described by female specimen from Orchid Island (Taiwan) by japanese Kishida, considered as " nomen dubium" (Huber, Samm & Schmidt, 1996; Song, Zhu & Chen, 1999).
Herewith monotypical genus Baccallbrapo Barrion & Litsinger, 1995 (type species – B. bundokalbo) considered to be a junior synonym of Yamia (contra R. Raven who considered in 2000 it as a junior synonym of Phlogiellus Pocock, 1897).
Also in resurrected genus was translated from genus Phlogiellus Pocock, 1897 a philippinese tarantula P. mutus (Giltay, 1935).
Thereby, for this moment the family Theraphosidae (subfamily Selenocosmiinae) renewed with new genera Yamia Kishida, 1920 with three species: Y. bundokalbo (Barrion&Litsinger, 1995), Y. muta (Giltay, 1935) and Y. watasei Kishida, 1920.
See also "Annotation to systematic".
3. According to publication of Zootaxa 648: 1-8, September 2004 "Notes on Acanthoscurria chacoana Brethes, 1909 (Araneae: Theraphosidae) in Brazil, and its synonymy with Acanthoscurria altmanni Schmidt, 2003", type of Acanthoscurria chacoana, described from Argentina, Bolivia and Paraguay were examined and compared to brazilian materials. Where was established that morphology of female spermatheca and construction of male sexual organ exceedingly variable as inside the population, so and between different populations of tarantulas (material).
Taxonomic features of Acanthoscurria chacoana, which distinguishing its from other species, are: male embolus is abbreviated and slaked, has very long and narrow, low based lateral keel; spermatheca fused, its length more then widths and its receptacula semini are close located to one another.
Areal covers Brazil including territory and surrounded areas of Pantanal - Matogrosso region.
On the base of conducted study species Acanthoscurria altmanni synonymized with Acanthoscurria chacoana.
4. According to publication of brazilian arachnologiest Jose Paulo Liete Guadanucci, Zoological Museum of University of San-Paulo (Brazil), Zootaxa 671: 1-14, October 2004 "Describtion of Catumiri n. gen. and three new species (Theraphosidae: ischnocolinae)" in Subfamily Ischnocolinae new genus taxon was established - Catumiri.
Together with this, species Cenobiopelma argentinense (Mello-Leitao, 1934) , considering synonym of genus Oligoxystre Vellard, 1924, is transfered to newly stated genus. Also three new species of Catumiri n. gen. is described: С. chicaoi n. sp. from South Bahia, Una; С. petropolium n. sp. from Petropolice, Rio de Janeiro; and С. uruguayense n. sp. from Lavaliege, Uruguay.
Thereby, new genus with four species has established, species Oligoxystre argentinense (Mello-Leitao, 1934) = Catumiri argentinense (Mello- Leitao, 1934).
5. Bertani & Fukushima: "Polyspinosa Schmidt, 1999 (Araneae, Theraphosidae, Eumenophorinae) is a synonym of Grammostola Simon, 1892 (Araneae, Theraphosidae, Theraphosinae)". Revista Iberica de Arachnologia, Vol. 9, June 2004:
Having researched the holotyp of Polyspinosa schulzei, renamed by german arachnologiest G. Schmidt in 1999 (is named in honour of canadian arachnologiest Stan Schultz and there was described earlier as Polyspina schulzei by G. Schmidt in 1994 - new species and genus taxons of subfamilie Eumenophorinae), authors have found the presence of thorn-like hairs on coxa of pedipalps and legs and stridulating bristles on coxa of leg I. Presence of these features and information on that the holotyp specimen comes from territory of Africa, probably there were reason for including its in subfamily Eumenophorinae. However, the presence of urticating hairs of type IV on investigated specimen indicates, that this species indeed belongs to subfamily Theraphosinae, since this is a synapomorphy of that subfamily.
On the grounds of these features, as well as the form of female spermatheca authors concluded, that this species belongs to genus Grammostola (Theraphosinae). Thereby, new combination has established - Grammostola schulzei (Schmidt 1994) comb. n., and genus Polyspinosa Schmidt, 1999 became a junior synonym of Grammostola Simon, 1892 syn. n.
6. Richard C. Gallon: Trichognathella - renaming of genus Trichognatha Gallon, 2002 (Araneae, Theraphosidae, Harpactirinae). Bull. Br. arachnol. Soc. (2004) 13 (2), 62.
In 2002 Richard Gallon has offerred the name Trichognatha for new monotypical genus of tarantula, which was established earlier for species Pterinochilus shoenlandi Pocock, 1900. However this name was a junior homonym of name Trichognatha Latrielle, 1892: 374 - genus of beetles (Carabus).
Name Trichognathella nom. nov. - now is offered for renaming the genus Trichognatha.
Thereby established a new genus and species - Trichognathella (Gallon, 2004) and Trichognathella shoenlandi Pocock, 1900 accordingly.
7. Gunter Schmidt: Acanthoscurria bollei sp.n. - new small species of tarantula from Uruguay and Argentina (Araneae, Theraphosidae: Theraphosinae).
New species of genus Acanthoscurria - Acanthoscurria bollei sp.n. has described, which is close to Acanthoscurria minor Ausserer, 1871 from Guyana. The main distinguishing taxonomical features are: absence of row of featherlike hairs on femur IV, available weakly feathered hairs hardly discernible, trochanter of pedipalps has 8-10 stridulating bristles, trochanter of leg I has not a single of such bristle. Also male pedipalp bulb is little different in form from A. minor.
8. At present time where are twо different species naming Lasiodora cristata exists.
The first one - former Acanthoscurria cristata, which was described by Mello-Leitаo in 1923 by female specimen, transfered to Pamphobeteus cristatus (by Schiapelli & Gerschman, 1964) and hereinafter transfered to Vitalius cristatus (by Schmidt, 1998), at present Lasiodora cristata (transfered from Vitalius to genus Lasiodora by Rogerio Bertani in 2001). This species has not presented in hobby.
The second one, former Vitalius cristatus, male of which is mistakenly described by Marc Baumgarten in 1998 as "Vitalius cristatus", is commonly widespread in collections in all world, the different species, which for a long time there was wrongly identified as its, and has nothing in common with species described by Mello-Leitаo in 1923.
This species, in the opinion of Rogerio Bertani, conducting at present the revision of genus Lasiodora, possesses features together of three genuses Vitalius, Lasiodora and Nhandu (however more close to genus Vitalius).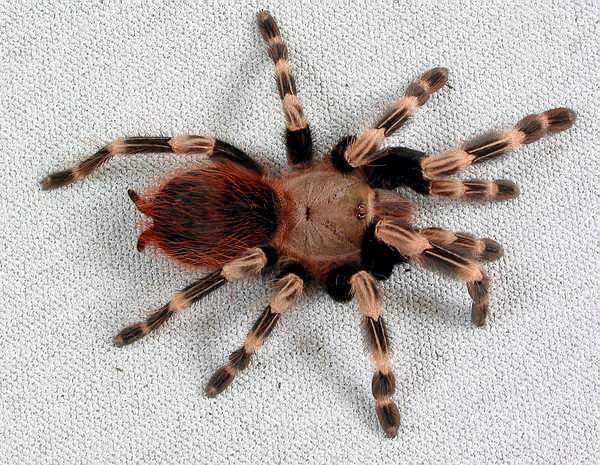 Literally recently german arachnologiest Gunther Schmidt (well-known by his careless commercial descriptions) in 2004 described its as a new species Nhandu chromatus : Gunter Schmidt: Der Doppelganger von Acanthoscurria geniculata (C.L. Koch, 1841) heist Nhandu chromatus sp.n. (Araneae: Theraphosidae: Theraphosinae).
In the opinion of majorities of arachnologiest it is enough obviously, that determination its as representative of genus Nhandu is wrong already even at a rate of genus.
English