Systematic news (2006)
And here we are summarize taxo news for the year 2006:
1. The end of the year is significant by 3 brand-new descriptions, 2 of them with German arachnologist Gunther Schmidt authorship and one of the Indian arachnologists group:
- New species of genus Poecilotheria - P. nallamalaiensis Rao et al., 2006 was described with the distribution in Nallamalai Hills, Eastern Ghats, Nagarjunasagar Srisailam Tiger Reserve, Prakasam Dist., Andhra Pradesh, India. This species shows close resemblence to Poecilotheria formosa, P. fasciata and P. miranda. This new species has been described in: "Rao, K. T., D. B. Bastawade, S. M. M. Javed & I. S. R. Krishna. Description of two new species of spiders of the genus Poecilotheria Simon (Araneae: Theraphosidae) and Tmarus Simon (Araneae: Thomisidae) from Nallamalai Hills, eastern Ghats, Andhra Pradesh, India. Rec. zool. Surv. India 106: 49-54".
- Very nicely coloured and small tree-dwelling species of tarantula known in hobby for some time as Avicularia sp. "Rotbüschel" from Ecuador has been described as Avicularia hirschii BULLMER, M., M. THIERER-LUTZ & G. SCHMIDT, 2006 (BULLMER, M., M. THIERER-LUTZ & G. SCHMIDT (2006): Avicularia hirschii sp. n. (Araneae: Theraphosidae: Aviculariinae), eine neue Vogelspinnenart aus Ekuador. Tarantulas of the World 124: 3-17).
- another one small arboreal -
Psalmopoeus langenbucheri
G. Schmidt, M. Bullmer & M. Thierer-Lutz, 2006 (see:
male
,
female
) was also described from Venezuela, which also was known under the name
Tapinauchenius sp. "Caripe"
(
SCHMIDT, G., BULLMER, M. & THIERER-LUTZ, M. (2006): Eine neue Psalmopoeus-Art aus Venezuela, Psalmopoeus langenbucheri sp. n. (Aranae: Theraphosidae: Aviculariinae). Tarantulas of the World 121/122/123: 3-17)
.
Both above listed descriptions has been published in notorious "Tarantulas of the World" Journal as always without being peer-reviewed and considering by most Theraphosidae arachnologists and amateur keepers are including some horrible mistakes. Both descriptions are not included the examination of the genera type material by authors, which makes even more mess into taxonomy of the genus Avicularia by far nowadays contains only 4 definately recognizable species and lots of undescribed species, hybrids, forms, etc.
2. The new species of the representative of popular genus Poecilotheria - P. tigrinawesseli Smith, 2006 finally was described by the BTS president arachnologist Andrew M. Smith from the northeast region of Peninsular India.
This species is well-known in hobby for the last 2 years and was bred and sold in captivity under the trade-name Poecilotheria sp. "tigris", and also earlier sometimes refered as P. sp. "wesseli".
The name of this tarantula is the combination name after Henrik Wessel Frank (the first discover of this species) and Th. Kroes, Th. Marklin and H. Krehenwinkel, who was also provided material for the description.
"The area is on the most extreme northeastern fringe of the Deccan sub-region and can be most readily defined as the region encompassing the northern foothills of the Eastern Ghats in the Visakhapatnam region. The new spider, Poecilotheria tigrinawesseli sp. n., can be readily distinguished from P. miranda Pocock, 1900, with which its shares part of its range, by the arrangement of the pattern and colouring on the ventral surface of the legs and the prolateral face of the femora of the anterior legs. This colouring and pattern also distinguishes this new spider from a similar looking Poecilotheria spider – P. formosa Pocock, 1899, which is common in the southern half of the Eastern Ghats in the region associated with the Coromandel coast" (citation from the abstract of: Smith, A. (2006) A New Species of Poecilotheria from Northeast Peninsular India (Araneae, Mygalomorphae, Theraphosidae) With Notes on its Distribution and Conservation Status. BTS Journal, 21(3): 83-94).
3. Another new species Holothele waikoshiemi Bertani & Aranjo, 2006 was bescribed from Venezuela (Bertani, R. & Y. Aranjo. A new species of Holothele Karsch, 1879 (Theraphosidae, Ischnocolinae) from Venezuela. Revta Iberica Aracnol. 12: 13-16).
The new species belongs to the Theraphosidae: Ischnocolinae and is described based on two females and a juvenile from Venezuela. The new species is distinguished by leg I being the longest limb, incrassate tibia I and spermathecae shape.
4. In the middle of the summer TWSC was being updated with the earlier work of the year 2005 which described a new species in the genus Aphonopelma from Mexico - Aphonopelma anitahoffmannae Locht et al., 2005.
Remarkably enough that the same paper (Locht, A., F. Medina, R. Rojo & I. Vázquez. 2005. Una nueva especie de tarantula del gÈnero Aphonopelma Pocock 1901 (Araneae, Theraphosidae, Theraphosinae) de MÈxico con notas sobre el gÈnero Brachypelma Simon 1891. BoletÌn de la Sociedad EntomolÛgica Aragonesa 37: 105-108) has synonymized Brachypelma ruhnaui to the Brachypelma albiceps (formerly Aphonopelma albiceps (Pocock, 1903) has been also transfered into Brachypelma by Locht et al.)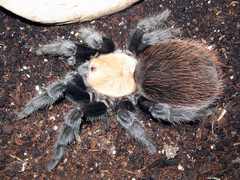 Personally, me, as not taxonomist at all, can't find any reasonable basis and solid arguments in the published paper being clearly proved the validity of this synonymy (quite the contrary new Aphonopelma species described very accurate), but lets the forthcoming revision of the whole genera Brachypelma to sort this recent findings and the complete mess with the species which were poorly described long ago and don't allow to correctly identified species of the B. "vagans-group" collectively named in hobby as "red-rump" tarantulas.
5. A new species of the genus Megaphobema Pocock, 1901 - Megaphobema teceae n. sp. from Juruti River Plateau, Juruti, Para, Brazil (Perez-Miles F., et al. (2006) "Megaphobema teceae n. sp. (Araneae, Theraphosidae), a new theraphosine spider from Brazilian Amazonia." Zootaxa 1115: 61-68) is described.
This nes species differs from the other 4 representatives of the genus by the presence of cospicuous post-ocular process.
It is also the first recorded species of Megaphobema from the both oriental Amazon region and Brazilian Amazonia.
English