Systematic news (2005)
1. Finally the species known in hobby for last 2 years under the name as "Phormictopus platus" or also as "Phormictopus cubensis" (at least in Russia and Czech Republic) find its correct identification! It is appears to be a new, recently described species from Cuba, named Phormictopus auratus Ortiz&Bertani, 2005 (ref: "Ortiz D., Bertani R., 2005: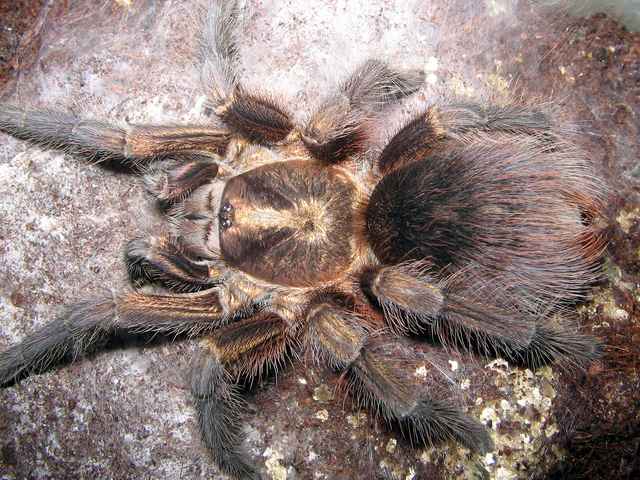 A new species in the spider genus Phormictopus (Araneae: Theraphosidae: Theraphosinae) from Cuba. Revista Iberica de Aracnologia, Vol. 11, 30-VI-2005: 29-36).
This new species is characterized by presenting the apex of the retrolateral branch of the tibial spurs flattened, on which metatarsus I makes contact when flexed; by possesing spermathecae well defined in three parts: the base, neck and fundus, and by having the carapace covered by a fine and dense golden pubescens. Natural history data of this species, collected in various regions of central-eastern Cuba, are also given. With this, the registered number of Cuban taxa pertaining to the genus Phormictopus is increased to four.
2. A new species added to the Euathlus Ausserer, 1875 genus (Gallon, Richard. 2005d. Ashantia Strand, 1908 is a junior synonym of Euathlus Ausserer, 1875 (Araneae, Theraphosidse, Theraphosinae). Bull. Br. Arachnol. Soc. 13(6):199-201).
English arachnologist Richard Gallon in preparation for a revision of the genus Harpactirella Purcell, 1902 re-examined the holotyp specimen (female) of Ashantia latithorax Strand, 1908, which was synonymized by R. Raven in 1985 with the genus Harpactirella found that it belongs to different theraphosid subfamily and the type locality labeled as Ashanti (=Ghana) is erroneous.
During the detailed examination, the type species was found to possess urticating setae of types III, IV and III/IV-intermediate type, which is follows to Perez-Miles et al. (1996) is the autapomorphic character for subfamily Theraphosinae Thorell, 1870 therefore this causes the removement and new synonymization of the examined taxon.
The subsequent research of this and other taxonomical features serves the redescription and illustration of this species with the establishing of a new comb. n.: Euathlus latithorax (Strand, 1908).
Thus, today the genus Euathlus Ausserer, 1875 consists of 4 species with one subspecies: E. latithorax (Strand, 1908) comb. n., E. pulcherrimaklaasi (Schmidt, 1991), E. truculentus Ausserer, 1875, E. vulpinus Karsch, 1880) and E. vulpinus ater (Donoso, 1957).
3. The new species of the tarantula belonging to the genus Holothele Karsch, 1879 (Theraphosidae: Ischnocolinae) from Guadelupe (Antiles Islands) - Holothele sulfurensis n. sp. (Marechale, P., Zoosystema: 27(2) 2005. Description d'une nouvelle espece d'Holothele (Arachnidae, Araneae, Mygalomorphae, Theraphosidae) de Guadeloupe (Antilles francaises) et commentaires sur la repartition du genre) has been described.
The main distinctive taxonomic characters are: scopulate metatarsi IV, divided scopula on tarsi I, straight fovea, and simple, long and digitiform spermathecae.
Its biology, compared with those of the other species of the genus, allows some remarks on the distribution of the genus in the West Indies in general.
4. Finally two well known to many hobbiests asian tarantulas of the genus Haplopelma occupy its fitting places according to modern taxonomy!
That happened thanks to a new great work of modern German arachnologists Volker von Wirth (who is well- known by his detailed and solid taxonomy researches and works about asian tarantulas) and Boris Striffler, also a seriouse arachnologist, known as well by his works dedicated not only to tarantulas but also of scorpion fauna of the World!
So, according this paper, published in Journal ARTHROPODA 13(2): VON WIRTH, V. & B. F. STRIFFLER (2005a): Neue Erkenntnisse zur Vogelspinnen - Unterfamilie Ornithoctoninae, mit Beschreibung von Ornithoctonus aureotibialis sp. n. und Haplopelma longipes sp. n. (Araneae, Theraphosidae), a species which known in the hobby for several years as Haplopelma sp. "aureopilosum"/Haplopelma chrysothrix SCHMIDT, 2005 are newly described as Ornithoctonus aureotibialis VON WIRTH & STRIFFLER, 2005. And also the species known under the "trade" name Haplopelma sp. "longipedum" has been described as Haploplema longipes VON WIRTH & STRIFFLER, 2005.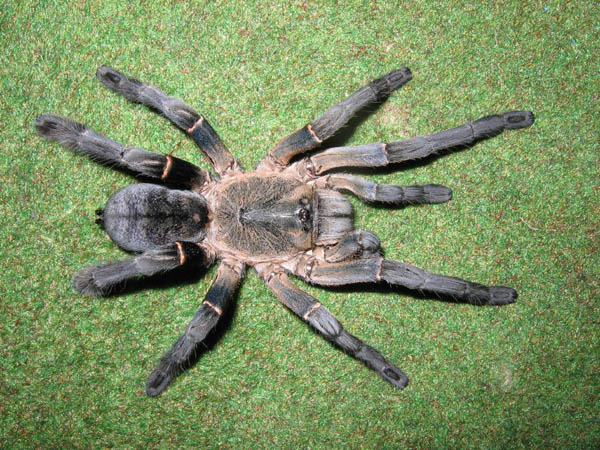 This paper also makes some valuable changes among the other asian tarantulas: the species Haplopelma chrysothrix SCHMIDT, 2005 and Haplopelma vonwirthi SCHMIDT, 2005 (probably the same species as Haplopelma minax) were invalidate due to a failures in the descriptions, that makes them not compatible with the code of the ICZN Some transferes were also has been made.
As a rezult of this great work, nowadays, these two ornithoctonine genera placed in the following order:
Genus Ornithoctonus POCOCK, 1895 comprises of 3 species:
Ornithoctonus andersoni POCOCK, 1892 (generic type species)
Ornithoctonus aureotibialis VON WIRTH & STRIFFLER, 2005
Ornithoctonus costalis (SCHMIDT, 1998) comb. n. (former Haplopelma costale)
Genus Haplopelma SIMON, 1892 strictly divided into three groups and consists of 10 species: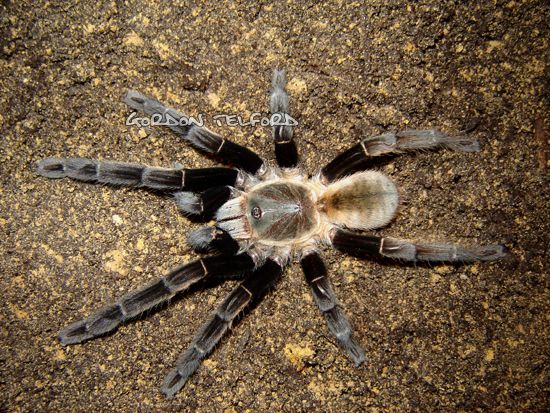 Haplopelma doriae (THORELL, 1890) (generic type species)
Haplopelma robustum (STRAND, 1907)
Haplopelma salangense (STRAND, 1907)
Haplopelma minax group
Haplopelma albostriatum (SIMON, 1886)
Haplopelma lividum SMITH, 1996
Haplopelma longipes VON WIRTH & STRIFFLER, 2005
Haplopelma minax (THORELL, 1890)
Haplopelma schmidti group
Haplopelma hainanum (LIANG ET. AL., 1999) comb. n.
Haplopelma huwenum (WANG, PENG & XIE, 1993) comb. n.
Haplopelma schmidti VON WIRTH, 1991
Hope, someday, all these messed asian tarantula taxonomy would be ranged in a proper order!
5. In July 2005 Britain arachnologist-taxonomist Richard Gallon has describe a new "un-horned" species of the genus Ceratogyrus Pocock 1897 from the territory of South African Republic (Kruger National Park) - Ceratogyrus paulseni sp. n. (Gallon, Richard C. (2005c). A new species of theraphosid spider from Southern Africa (Araneae, Mygalomorphae, Harpactirinae) with distributional notes on other harpactirines. Bull. Br. Arachnol. Soc. (2005) 13 (5), 179-184).
The generic placement of this new species initially proved difficult. It possesses a transverse fovea and lacks an obvious sub-abdominal band, and would thus key out as a Pterinochilus species. However it is has ventral darkening on the palps and legs I–II which is synapomorphic for the Ceratogyrus/Augacephalus group, to the exclusion of other harpactirine genera. And in contrast to Augacephalus it lacks the robust anterior appendages and velvety chelicerae.
At the same time a new species has it's position apart from the other relatives of the same genus, so the examination of the tibial spur and palpal bulb of the Ceratogyrus paulseni adult male (currently unknown) should eventually help confirm its placement within the Ceratogyrus/Augacephalus clade.
6. The new monotypic genus with a single species of Eumenophorinae Pocock 1897 subfamily from Serpent Island (Mascarene Islands, Mauritius), a small 19 ha islet, is described in July 2005 by Richard Gallon (Gallon, Richard C. (2005b). On a new genus and species of theraphosid spider from Serpent Island, Mauritius (Araneae, Mygalomorphae, Eumenophorinae). Bull. Br. Arachnol. Soc. (2005) 13 (5), 175-178).
This unique tarantula, named Mascaraneus remotus sp. n., observed living within volcanic rock crevices and fed on lizards - two species of which occur on Serpent Island.
The unique taxonomical feature of this new species- the absence of stridulating organ (apparatus), which is presented in all other Eumenophorinae genera (this is similar to Ischnocolinae). This organ has been suggested to used by tarantulas to discourage predation (Wood-Mason, 1875, 1877; Pocock, 1895; Vol, 2002) and since there are no any predators on island (the only native mammal are bats) this might explain the loss of stridulatory setae in Mascaraneus gen. n..
The photo of Mascaraneus remotus sp. n. is situated here (You must enter the comb. of "512-12-16" in upper search string and press "Search" button).
7. And now the news from the Australia: after several years of silence being discovering a few new species from different genera of local tarantulas Dr. Rob Raven (Queensland Museum) finally has describe one of these.
In his work: Robert J. Raven. A new tarantula species from northern Australia (Araneae, Theraphosidae). Zootaxa 1004: 15–28 (2005) he identificate one of the new species of tarantula from Northern Aussie as a representative of the genus Coremiocnemis Simon 1892, none of the species of which recorded before this fact outside of Malaysia.
Also Dr. Raven, being analyzing the local theraphosid fauna, cites that all known Aussie tarantulas belong to the subfamily Selenocosmiinae, at the same time, all described species pertain to genera Selenocosmia Ausserer, 1871 (formerly an Australian unique Phlogius in part), Selenotypus Pocock, 1895 and Selenotholus Hogg, 1902.
However, already in 2002 Raven et al. indicated that the genera Coremiocnemis Simon 1892 and Phlogiellus Pocock 1897 are also present in Australia (he anonced that the revision of the Aussie theraphosids already in press). Also this fact is well-known from the materials of the site of local Australian arachnologist Steven Nunn, which keeping and breeding the local tarantulas for long years.
So in this work a new species of tarantula - Coremiocnemis tropix sp. nov., which known only from lowland rainforests in the Cairns region, Wet Tropics, Queensland is described.
This new species differs from other congeners (2 species form Malaysia) by the following main characters: the absence of the very long brushes on metatarsi IV and the less extensive maxillary lyra.
According this work, which what concern the Aussie theraphosid fauna, we'll wait for R. Raven's revision. It is obviousely that it will contain the more new descriptions.
8. A new finding of Britain arachnologist and taxonomist Richard Gallon, which makes a great new changings in Theraphosid sistematic has been published recently (Richard C. Gallon. Encyocratella olivacea Strand, 1907, a senior synonym of Xenodendrophila gabrieli Gallon, 2003 (Araneae: Theraphosidae: Stromatopelminae) with a description of the male. Zootaxa 1003: 45–56 (2005)), and directly concerns the Stromatopelminae subfamily as well as his own "new" description from 2003 (Richard C. Gallon. A new African arboreal genus and species of theraphosid spider (Araneae, Theraphosidae, Stromatopelminae) which lacks spermathecae. Bull. Br. arachnol. Soc. (2003) 12 (9), 405–411).
This fact connected with rediscovery of the holotype of Encyocratella olivacea Strand, 1907 at the Museum fur Naturkunde der Humboldt-Universitat (Berlin, Germany).
The brief history are: in 1907 Strand has describe the genus Encyocratella with the sole species from the single female collected from Amani, Tanzania. Afterward R. Raven in 1985, was unable to locate type material, being studying it's congeners, synonymized it with genus Chaetopelma Ausserer, 1871. In 1991 Schmidt proposed the new name - Chaetopelma strandi Schmidt, 1991 to resolve the secondary homonyms, created by Raven's syninymy.
In 2003 R. Gallon regardless of the above mentioned has described the new genus with the sole species - Xenodendrophila gabrieli Gallon, 2003.
However after rediscovery of lost holotype and its comparison with the one of X. gabrieli Gallon have found that both are absolutely identical on taxonomical features.
So, the rezult as follows: genus Encyocratella removed from the synonymy with Chaetopelma, and proposed as a senior synonym of Xenodendrophila. As a consequence, the secondary homonymy between Chaetopelma olivaceum (C.L. Koch, 1841) and Chaetopelma strandi Schmidt, 1991 is rejcted, the species Xenodendrophila gabrieli Gallon, 2003 is considered a junior synonym of Encyocratella olivacea Strand, 1907. The male is described for the first time in this publication.
9. In new year 2005 we get in the hobby "a row" of possibly programm-works of Gunther Schmidt - this is, have to say, the papers which give rise to doubts and is rather ambiguous to many people having deal with the taxonomy...
So, let's start...
In his paper G. Schmidt (Schmidt G. (2005): Haplopelma vonwirthi sp. n., eine neue Art der Haplopelma minax- Gruppe aus Sudostasien (Araneae: Theraphosidae: Ornithoctoninae). Tarantulas of the World. Ausgabe 103, Marz 2005: 4-12) describes the new species of the genus Haplopelma, known earlier in the hobby for some time as Haplopelma sp. "Vietnam" and named it after the one of the most remarkable modern taxonomist specialised in asian theraphosids - Volker von Wirth - Haplopelma vonwirthi (after the month where was another related taxonomy of the same new species paper issued - Schmidt G. (2005): Weiteres zur Charakteristierung von Haplopelma vonwirthi Schmidt, 2005. Tarantulas of the World. Ausgabe 104: 3-5).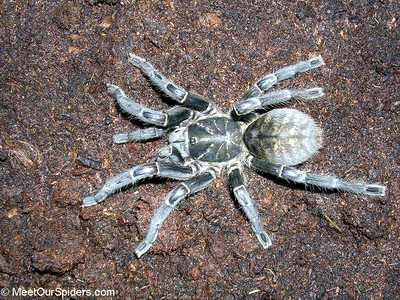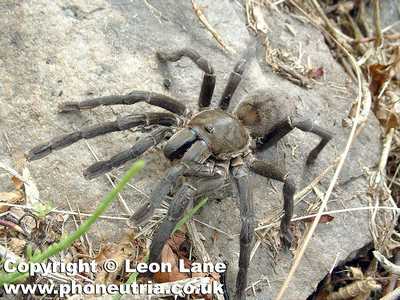 So, turning to the paper: the female of the new species of genus Haplopelma from South-East Asia is described. This species belongst to the "Haplopelma minax - Group ". Its simple fused spermathecae can not be distinguished from those of Haplopelma minax (Thorell, 1897) and Haplopelma lividum Smith, 1996.
The systematic features as following: leg IV is a little longer than leg I, the position of the thorn-like coxal spines on the prolateral face of the palp and their size are quite different from those of the other species of the Group. The male is known, but could not be studied. The species name is proposed.
As it shown the description is poor and time will tell of the new species validity.
It is also maybe proposed that the validity of this and other species will be put to rights where the revision of Asian tarantulas by Volker von Wirth, which was deeply in progress now, will be finished, but maybe earlier.
10. The other revision was made by Schmidt in april, 2005 and get intouch with the one of the most discussed question of the taxonomy status of the genus Davus (one note must be given of that this subject is the interest of the other German arachnologist, Schmidt's friend - Jan-Peter Rudloff).
The genus Davus O.P. Cambridge, 1892 placed in the synonymy of genus Cyclosternum Ausserer, 1871 by the arachnologist Valerio in 1982 (which later also was confirmed by R. Raven in 1985) is restored as the valid genera taxon, and it's type species, Davus fasciatus O.P. Cambridge, 1892 redescribed. The genus Pseudoschizopelma Smith, 1994, placed by Perez-Miles et. al. in 1996 in the synonymy of Cyclosternum, is also transfered to the Davus.
It's type species P. macropus, originally described by Ausserer in 1875 as the species of genus Crypsidromus, was placed in Schizopelma by F.O.P.-Cambridge in 1897. The other species, P. pentalore , which was bescribed by E. Simon in 1888 as a species of the genus Crypsidromus , and transferred also by F.O.P.-Cambridge in 1897 to Hapalopus Ausserer, 1871, has to be transferred also in Davus O.P.-Cambridge, 1892, with which it shares the shape of spermathecae and morphology of male palpal bulb.
According the mentioned above the genus Davus O.P. Cambridge, 1892 includes the following species: D. fasciatus, D. macropus, D. obscurus (Simon, 1891) and D. pentaloris.
The systematic features of the restored genus are: urticating hairs of type III, male with twin tibial spur of which the primary segment is mostly exceptionally long. Embolus similar to Hapalopus. Female with small dark brown single fused seminal receptacle, often flattened in front. Clypeus moderately wide. Scopula of tarsus IV divided by lines of setae or thin hairs.
Distribution of the genus: Mexico and Central America.
This genus is closely related to the genus Hapalopus, distributed in Mexico and South-America which it shares also the single fused spermathecae. But it can be distinguished by larger size (30 - 80 mm), a very long primary segment of the tibial spur and seminal receptacles not as wide and low as in Hapalopus and more structured.
The genus Davus can be distinguished from Schizopelma, as a close related group, which representatives is also has a single fused seminal receptacles, by a double tibial spur in male.
Note. This revision was rejected by Norman I. Platnick and restoration of the genus Davus was not officially supported. Stil Davus = Cyclosternum.: "N.B.: considered a senior synonym of Davus O. P.-Cambridge, 1892 by Valerio, 1982: 412 (but not by Schmidt, 2005c)" - TWSC entry on annotation to the genus Cyclosternum.
11. In february 2005 G. Schmidt, Frank and Maja Friebolin describe a new species – Thrixopelma cyaneum Schmidt&Friebolin, 2005 from Peru (G. Schmidt& F.&M.Friebolin, 2005. Gibt es jetzt wirklich eine neue Homoeomma-Art (Araneae: Theraphosidae: Theraphosinae) aus Peru? TOW-102/Februar 2005: 5-17). Also its features and captivity data are given.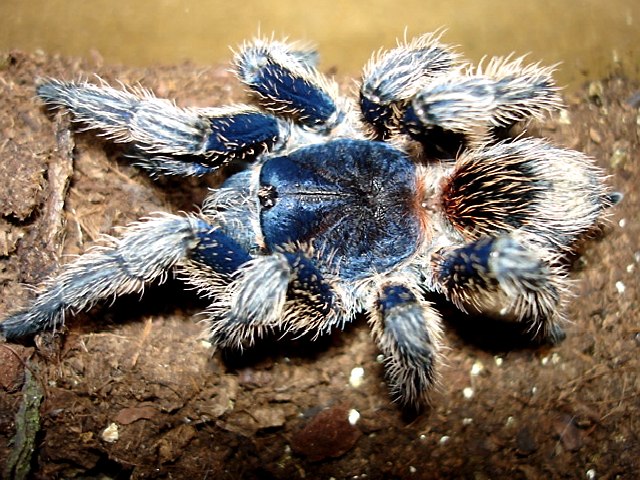 Interesting note that this tarantula is kept in captivity already more than 7 years in Germany, Austria, Great Britain and USA as a trade name "peruvian сobalt redrump" and at different time supposedly pertain to genuses Homoeomma, Grammostola or Cyclosternum.
The male of this species is known but not examined.
General features that allowing to refer it to genus Thrixopelma Schmidt, 1994 and close relation to Th. pruriens are follows: the claws has 7 short teeth, labium – 20-33 cuspules. Differences are concluded in that metatarsus III scopulated only on half of its lenght and spermatheca receptacula semini apically not that flattened.
12. In February 1, 2005 C.S.Fukushima, R.Bertani and P.I. Da Silva Jr. is published a revision of genus Cyriocosmus Simon, 1903 (Fukushima C.S., Bertani R. & Carla-Da-Silva S. 2005, Revision of Cyriocosmus Simon, 1903, with notes on the genus Hapalopus Ausserer, 1875 (Araneae : Theraphosidae). Zootaxa, 846: 1-31).
In accordance with it several new species has established including revalidation of C. fasciatus (Mello-Leitao, 1930), which was formerly a synonym of C. elegans (Simon, 1889).
Two new species are described: C. nogueira-netoi and C. fernandoi from Brazil. Also a new combination names are proposed : Hapalopus butantan (Perez-Miles, 1998) due transfer it from Cyriocosmus and Hapalopus nigriventris (Mello-Leitao, 1939 - from Metriopelma.
According to publication the genus hystory is described, all species are diagnosed and keyed, cladistic analysis and phylogenetic and other systematic information are given.
English